Fourteen fiction writers dominate this issue, among them ten women authors. Basra is the setting for two disturbing but gripping stories by Iraqi author Luay Hamza Abbas. From Syria, three novelists writing completely different genres of novels: Salim Barakat with mysterious, highly inventive place-names and characters that take the reader to another world, Nabil Sulaiman with a modern setting and topical references, for instance to Michael Moore and George in a novel designed to make the reader think; and Nihad Sirees's A State of Passion – an enthralling saga of life among the marginalised in 1930s Syria.


CONTENTS

Cover artist: Nabil Abu Hamad

Editorial – Farewell, Naguib Mahfouz

Luay Hamza Abbas Two short stories Closing his Eyes and A Much-travelled Man
Alawiya Sobh Excerpt from the novel Dunya
Rabia Raihane A short story The Señora
Salim Barakat Excerpt from the novel Hydrahodahose Caves
introduced by Issa J. boullata
Salwa Bakr A short story The River Nile
Fadwa al-Qasem Two short stories My Shirt and The Loop
Nabil Sulaiman "Dance of the Wicker Basket"
– an excerpt from the novel Hypostases of Day and Night
Fatma Yousif al-Ali Two short stories
– Nothing Shameful and A Feminine Ending
Sahar Tawfiq A short story Two Blue-Gum Trees in Giza
Hayet Raies A short story Azrael and the Author
Malika Moustadraf (1963–2006) A short story A Mere Difference
Ghalia Kabbani A short story A Cup of Tea with Mrs Robinson
Salima Salih Two short stories Forgiveness Tree and The Revenant
Nihad Sirees Excerpt from the novel A State of Passion
Lamia Makaddam Three Poems
Firas Sulaiman: Three Poems

A TRAVELLING TALE
Youssef Rakha
Excerpts from Beirut shi Mahal, Beirut – Some Place

INTERVIEW WITH AN EDITOR
Brian Whitaker, editor of Arab Gateway, www.al-bab.com

OBITUARY
Fadhil al-Azzawi remembers Jalil al-Qaisi (1936–2006)

BOOK REVIEWS

Stephen Watts reviews poetry in translation
Why Did You Leave The Horse Alone? by Mahmoud Darwish
and Lebanon: Poems of Love and War by Nadia Tuéni

Peter Clark Voices from the Other World: Ancient Egyptian Tales
by Naguib Mahfouz

Peter Clark Abdelrahman Munif and Iraq by Maher Jarrar
Zuzana Kratka The Heron and Nile Sparrows by Ibrahim Aslan

BOOKS IN BRIEF

EVENTS
Banipal Translation Prize – First Prizewinner
Banipal Live UK tour – 14-20 August
Leipzig: Adel Karasholi at 70
London: Mourid Barghouti Reading
Frankfurt: 2006 Book Fair, 3-8 October

Contributors and Translators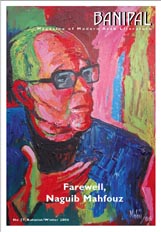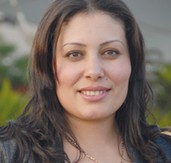 Latest News
24/04/2018
Ibrahim Nasrallah wins 2018 International Prize for Arabic Fiction
[read more]
07/03/2018
Sheikh Zayed Book Award announces the 2018 Shortlists
[read more]
26/02/2018
Shortlist Announced for IPAF 2018

[read more]
22/02/2018
On 3 March: Three award-winning translators to discuss "Translating Arabic Fiction Today"
[read more]
17/01/2018
Longlist for 2018 IPAF announced
[read more]
10/01/2018
Robin Moger is winner of 2017 Saif Ghobash Banipal Translation Prize
[read more]
[read all news stories]