Alawiya Sobh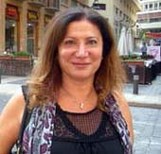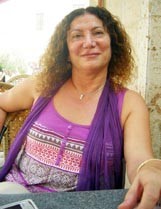 Alawiya Sobh was born in Beirut in 1955. She studied Arabic and English Literature at the Lebanese National University in Beirut. After graduating in 1978, Subuh worked as a high school teacher while publishing articles in the arts and culture section of Nida', a Beirut daily. In the early eighties, she was publishing her fiction, poetry, and literary reviews in the leading Beirut daily An-Nahar.

She then became editor of the cultural section of the most widely-read Arabic women's magazine at that time: Al-Hasnaa', and in 1986 its editor-in-chief. In the early 1990s she founded Snob Al-Hasnaa', the best-selling women's cultural magazine in the Arab world today, and remains its editor-in-chief.

She participates regularly in cultural conferences throughout the Arab world and appears as a guest speaker on television programmes addressing issues related to women, war and modernity in Lebanon and the Arab world. In 2009-2010 she on the judging panel of the Beirut39 literary project to find the best 39 Arab authors aged 39 and under.
She published a collection of stories, Slumber of Days (1986), before turning to writing novels. Her novel Maryam al-Hakaya (Maryam" Keeper of Stories) (Dar al-Adab, 2002), excerpted and introduced in Banipal No 17 by Nirvana Tanoukhi, was acclaimed as a novel of epic dimensions, and provoked numerous articles by literary critics and writers all over of the Arab world. In 2006 she was awarded the Sultan Qaboos prize for this novel. French, German and Italian editions of Maryam al-Hakaya are in progress. Her second, Dunya, was published in 2006.

Her novel Ismahul Gharam [It's Called Love], excerpted in Banipal 36, was widely reviewed in the Arab press and acclaimed for its sensitive and sensuous treatment of a middle-aged woman assessing her love life. It was longlisted for the 2010 International Prize for Arabic Fiction.

Her latest novel Aan Ta'ashaq Al Hayat (To Love Life) has been shortlisted for the 2021 Sheikh Zayed Book Award. Three chapters are excerpted in Banipal 70 (Spring 2021) translated by Nancy Roberts, along with an interview about her writings conducted by Katia al-Tawil.
---
Contributor's Issues
Banipal 36 - Literature in Yemen Today (2009)
Banipal 27 - Autumn/Winter 2006
Banipal 70 - Mahmoud Shukair, Writing Jerusalem
Banipal 40 - Libyan Fiction (2011)