Banipal Books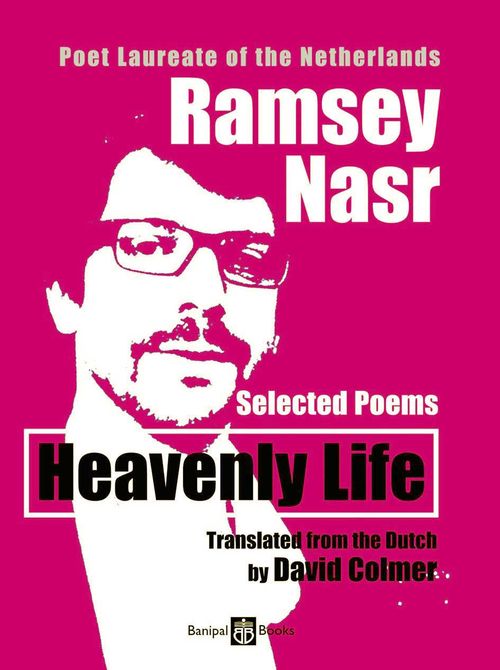 Heavenly Life
by Ramsey Nasr
ISBN:
978-0-9549666-9-0
Paperback • 180pp • £7.99

Selected Poems
Translated from the Dutch by David Colmer


Available via PayPal

Or from our distributors:
Order your copy today (UK and EU)

Prize-winning poet, essayist, dramatist and actor Ramsey Nasr, born 1974 in Rotterdam into a Palestinian-Dutch family, was voted Poet Laureate of the Netherlands in 2009. A man of many passions, including classical music, drama, poetry and travel, as city poet of Antwerp in 2005 his appearances were attended like pop concerts.
The poems in Heavenly Life were selected by the poet from his collections and from works written as poet laureate. His translator is the award-winning David Colmer, joint-winner of the 2010 IMPAC prize for his translation of The Twin by Gerbrand Bakker, who has dynamically recreated in English the patterns and sounds of Ramsey's inventive, bold and thoughtful poems. With an introduction by Victor Schiferli and foreword by Ruth Padel.

The collection includes the poem which voted Nasr into his laureate post – in the Netherlands the laureate is chosen by popular vote. Another is a three-part poem inspired by the life of Dmitri Shostakovich and based on his Sonata for Viola and Piano. The title poem Heavenly Life, meanwhile, was written to commemorate the 150h anniversary of Gustav Mahler's birth and is based on his Fourth Symphony, the four sections of the poem echoing the structure, tone and length of its movements. It is named after "Das himmlische Leben", the song that forms the symphony's finale.
Click on YouTube video below to see Ramsey Nasr reading Part III (Adagio) of his poem Heavenly Life to the music of the Third Movement of Mahler's 4th Sympthony, performed by the Amsterdam Ensemble in 2012. Read the English translation, pp. 145-155 in Heavenly Life, Banipal Books 2010.
Renowned American poet Marilyn Hacker writes: "With this collection Anglophone readers are introduced to a poet of global scope. Ramsey Nasr is already a polyvalent literary figure in his own country and language – multifaceted, virtuosic, irreverent and polymath.
"His poems, in every form and register from sonnet to Whitmanian tirade, do not balk at history, whether that of his family's situation in the West Bank or the fate of Dutch Jewish musicians and Mahler's music during the Nazi Occupation of the Netherlands – to name but two stopping points."


To listen to Ramsey Nasr on The Forum, BBC World Service
click here
Ramsey Nasr performed at 2 events at the Poetry International at London's Southbank Centre on 6 November 2010.
Click here for more details and pictures of these events with Nujoom al-Ghanem, Fadhil al-Azzawi, Jasmine Donahaye, Adam Foulds and Nathalie Handal.
On 18 June 2011 he performed at the World Literature Weekend, organised by the London Review of Books, which was opened by Ruth Padel, who wrote the Foreword to the Palestinian-Dutch poet's first book in English translation, Heavenly Life. (More details and pictures here.)

FROM THE DUTCH AND BELGIAN PRESS:
He reaches the hearts of his readers exactly by omitting pretensions or false sentiment. The song has returned, it resounds in his poems. What a voice! – Jan Paul Bresser in the Dutch weekly Elsevier

This is a poet who takes the pulse of his age, presses charges against injustice and oppression, without forgetting the heartbeat of his predecessors. – Paul Demets in the Belgian daily newspaper De Morgen

For more about David Colmer, click here
For more about Victor Schiferli, click here
For more about Ruth Padel, click here

Banipal Books gratefully acknowledges the support of the Dutch Foundation for Literature that has made the publication of Heavenly Life possible.





Ramsey Nasr joined five other Dutch authors in a tour of six UK cities, 14–19 January 2013.http://www.youtube.com/embed/3a3GUZulp_w