Past Events
18 June 2011
7.00pm
London Review Bookshop



Ramsey Nasr in conversation and reading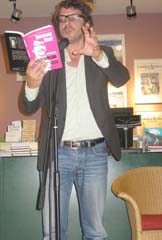 Time and Date: 7 pm, Saturday 18 June
Venue: London Review Bookshop
14 Bury Place
London WC1A 2JL
Ramsey Nasr's event during the recent World Literature Weekend, organised by the London Review of Books, was opened by Ruth Padel, who wrote the Foreword to the Palestinian-Dutch poet's first book in English translation, Heavenly Life.

Ramsey making a point in conversation with Ruth Padel

Ramsey explained how he became the Netherlands' poet laureate by a vote on the poem "I wish I was two citizens (and then I could play together)". He spoke about his interest in history and music, and the writing of the title poem "Heavenly Life", which follows Mahler's 4th Symphony and records in poetic form the Nazification of the Amsterdam Concertgebouw during the WWII occupation. On May 4, 2011, the annual "Remembrance of the Dead" day in the Netherlands, he read this poem at a performance of the Symphony at the Concertgebouw, reading out the names of the Jewish members of the orchestra who were moved to the back and eventually disappeared altogether.
Heavenly Life, Ramsey said, was his "passport" on international travels, and he enchanted the audience with a number of readings from David Colmer's brilliant translations. Asked how he found his translator, he replied that he had been very lucky, and that after working together for a while, he had given David the freedom to re-create his poems in English, trusting him completely.
The laureate's latest request for a poem had been made after the opening by the European Commission in the Hague of the House of Europe. WLW took the opportunity to produce a special bilingual booklet of the poem for the Weekend, the house of europe, translated by David Colmer – with all 250 copies personally signed by Ramsey Nasr.
Ramsey Nasr and Ruth Padel posing for a photograph at the end of the evening

To listen to Ramsey Nasr reading Part III of his poem Heavenly Life to the music of the Third Movement of Mahler's 4th Sympthony, performed by the Amsterdam Ensemble in 2012, click here

For Susannah Tarbush's report on the evening, go to The Tanjara blogspot.

Click here for more information about Heavenly Life, pubiished by Banipal Books
Click here to get a copy


Below: photos from Ramsey Nasr's visit to Burma earlier this year and his interview with Aung San Suu Kyi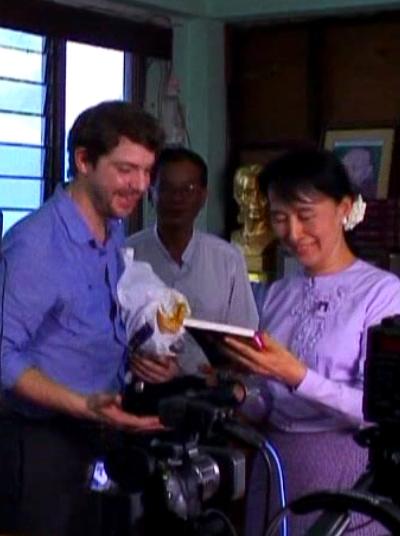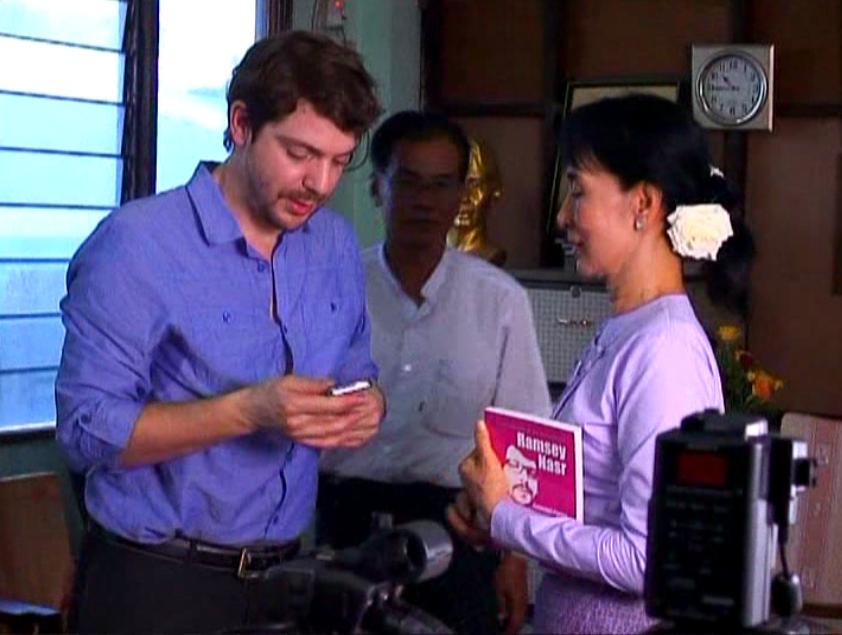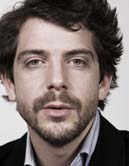 For more information about Ramsey Nasr, click here and to go to his own website http://www.ramseynasr.nl/

Prize-winning poet, essayist, dramatist and actor Ramsey Nasr, born in 1974 in Rotterdam into a Palestinian-Dutch family, was voted Poet Laureate of the Netherlands in 2009. A man of many passions, including classical music, drama, poetry and travel, as city poet of Antwerp in 2005 his appearances were attended like pop concerts. Banipal's publication of Heavenly Life, a collection of his poems translated by David Colmer, brings his work for the first time to an English-speaking audience. For poet Marilyn Hacker, 'Ramsey Nasr is already a polyvalent literary figure in his own country and language – multi-faceted, virtuosic, irreverent and polymath. His poems, in every form and register from sonnet to Whitmanian tirade, do not balk at history, whether that of his family's situation in the West Bank or the fate of Dutch Jewish musicians and Mahler's music during the Nazi Occupation of the Netherlands – to name but two stopping points.'

Event photos © Samuel Shimon Portrait photo © keke keukeklaar