Past Events
28 - 30 April
Three day event
TRIPOLI INTERNATIONAL POETRY FESTIVAL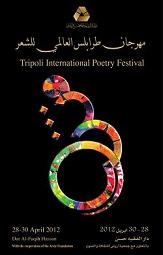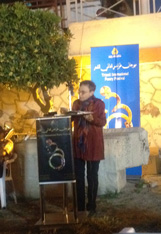 Marilyn Hacker at the Opening of the Festival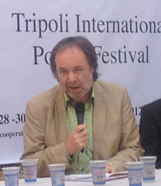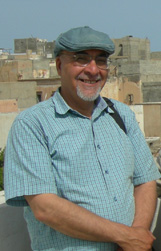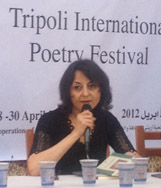 Iman Mersal Matthew Sweeney Ashur Etwebi


This international gathering in Tripoli was the new Libya's first poetry and literary festival. Organised by the Libyan poet and physician Ashur Etwebi and Khaled Mattawa, the Libyan-American poet and professor of creative writing at Michigan University, the participants included poets as well as scholars and literary professionals from Palestine, Tunisia, Syria, Morocco, Jordan, Egypt, UAE, Saudi Arabia, Algeria, USA, Britain, Italy, Ireland and Libya.
The festival was held in the heart of Old Tripoli, in the cultural centre of Dar Al-Faqih Hassan, a fine building which dates from 1630 and was once the home of the French Consulate in Tripoli. There was tremendous local interest and many of the festival's international visitors were struck by the relaxed, friendly and welcoming atmosphere, whether at the festival's events, walking in the old town and souqs, or on visits to the Roman city of Sabratha and the ancient Amazigh city of Yafran.

The festival's grand opening, supported by an impromptu and rousing performance from a local band, took place in the garden of the Marcus Aurelius Arch (built 163 CE) and included speeches by the Minister of Culture and Civil Society who welcomed "the master poets and keepers of knowledge and beauty" at a time when "our country is shaking the dust of tyranny off its soul" and by the Director of the Old City of Tripoli Project, with poetry readings from Taher Riad, Carolyn Forché, Zakaria Mohammed, Nujoom al-Ghanem, Marilyn Hacker and others.
In the mornings there were panel discussions on "Poetry in an Era of Great Transformations", "Poetry in a Digital Globalized World Place", "Exile, and Poetic Innovation" and "Arabic Poetry, New Directions", with Khaled Mattawa interpreting from Arabic or English accordingly. Poetry readings were held during the evenings, with the closing event taking place in the courtyard, along with the award of the first Tripoli poetry prize to Libyan poet Muftah al-Amari.

The participants included Taher Riad (Jordan), Zakaria Mohammed (Palestine), Matthew Sweeney (Ireland), Iman Mersal (Egypt), Ahmad Al-Mulla (Saudi Arabia); from the USA Carolyn Forché, Marilyn Hacker, Jon Thompson, Tony Hoagland and Christopher Merrill; Ulrich Schreiber (Germany), Rasha Omran (Syria), Habib Tengour Morocco), Andrea Raos (Italy) and Abdulwahab Al-Mullawah (Tunisia); from the UK James Byrne, Nii Parkes and Margaret Obank; and from Libya Salem al-Okley and Suad Salem who were both part of the organising team, Mariam Salama, Saleh Gaderbouh, Abdulsalam Al-Ujaili and Muftah Al-Amari.
The full programme is available on the festival Facebook page.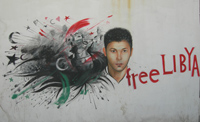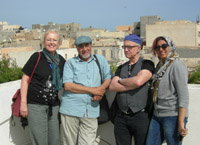 One of the numerous fine murals on Tripoli's walls Enjoying a break: Margaret Obank, Asher Etwebi, Tony Hoagland and Nujoom al-Ghanem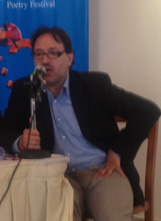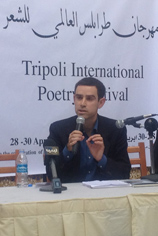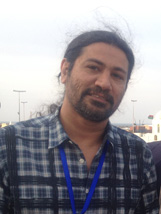 Khaled Mattawa James Byrne Ahmed al-Mulla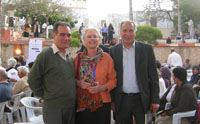 Omar Abulqasim Alkikli, Margaret Obank and Giuma Bukleb at the Opening.