Lulu Norman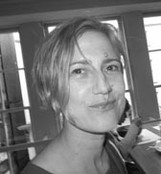 Lulu Norman is a translator and writer, working mainly from French and Spanish with a particular interest in North African literature.

She has translated Mahi Binebine's Welcome to Paradise (Granta, 2003, original title Cannibales, after translating an excerpt for Banipal 9, Autumn 2000, where Mahi Binebine was the featured painter of the issue). Welcome to Paradise was shortlisted for the Independent Foreign Fiction Prize. She has also translated Mounsi's The Demented Dance (BlackAmber), and with Ros Schwartz The Belly of the Atlantic by Fatou Diome (2006), The Star of Algiers by Aziz Chouaki (2006) and Paris Noir (2008), all three published by Serpent's Tail.
Lulu Norman was awarded the 2013 English PEN Award for outstanding writing in translation for her translation of Horses of God by Mahi Binebine.
The French original of Horses of God (reviewed in Banipal 46) – Les Etoiles de Sidi Moumen (Flammarion, 2010) – won the Prix du Roman Arabe as well as the inaugural Mamounia Literary Prize of Marrakech. The award-winning film of the book is directed by Nabil Ayouch.
---
Contributor's Issues
Banipal 34 - The World of Arab Fiction (2009)
Banipal 44 - 12 Women Writers (2012)
Banipal 62 - A Literary Journey through Arab Cinema (2018)
Banipal 39 - Modern Tunisian Literature (2010)