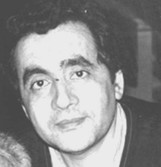 was born in Mostaganem, west Algeria, in 1947. His family moved to France to escape persecution when he was five years old. He studied Sociology in France, and later, when in Algeria to do his military service, studied at Constantine University. In 1976 he published his first and surrealist poetic work, Tapapakitaques ou la poésie-île. As well as publishing in literary journals and poetry anthologies, Tengour has also published many collections of poems, novels and poetic texts. He currently lives and works in Constantine and Paris teaching at universities in both countries. He is one of the best known francophone poetic voices of North Africa. See Banipal 10 and Banipal 14 for more of his works.
Contributor's Issues
Banipal No 14 Summer 2002
Banipal No 10 /11, Spring 2001/Summer 2001
Banipal No 37 IRAQI AUTHORS (2010)

Latest News
16/02/2017
IPAF Short list Announced
[read more]
30/01/2017
Complete Digital Archive of Banipal is launched
[read more]
26/01/2017
Ali Bader selected as First Banipal Visiting Writer Fellow
[read more]
25/01/2017
Saif Ghobash Banipal Prizewinner Jonathan Wright and his author Saud Alsanousi celebrate in Manchester on 23 February
[read more]
16/01/2017
International Prize for Arabic Fiction 2017 – Longlist announced
[read more]
13/01/2017
Syrian writer Khaled Khalifa writes on being Syrian today – "the issue in Syria is not one of refugees but of a whole population that is being turned into either corpses or forced to flee while the world stands silently by"
[read more]
[read all news stories]