Past Events
14 April to 27 May
New film about Etel Adnan by the Otolith Group
Fabrica Gallery in Brighton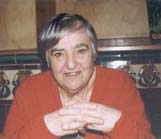 I See Infinite Distance Between Any Point and Another is a portrait of the Lebanese-American poet, essayist and painter Etel Adnan. She is one of Banipal's editors and has contributed to a number of issues. Central to the film, made largely in her Paris apartment, is a reading of extracts from her recently published poem The Sea.
Fabrica Gallery
40 Duke Street
Brighton
East Sussex BN1 1AG

tel. 01273 778 646
Please click here for more information about tickets and opening times.
The artist in residence at Fabrica Gallery during the Spring show, Maria Jastrzebska, is exploring the idea of the sea as a border between countries, cultures and languages, and will put on a number of different events on this theme. Those unable to make it to Brighton, are invited to visit her blog and take part in her project by answering a few questions about the role of borders.