Raphael Cohen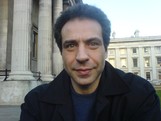 Raphael Cohen is a professional translator and lexicographer who studied Arabic and Hebrew at Oxford University and the University of Chicago.

He has translated a growing number of novels by contemporary Arab authors including Guard of the Dead by George Yarak (Hoopoe Fiction, 2019) which was shortlisted for the 2016 IPAF prize, Status Emo by Eslam Mosbah (AUC Press, 2013), Butterfly Wings: an Egyptian Novel by Mohamed Salmawy (AUC Press, 2014) and Ahlem Mosteghanemi's The Art of Forgetting (Bloomsbury, 2011) and The Bridges of Constantine (Bloomsbury, 2014), the latter being reviewed by Peter Clark in Banipal 51, and So You May See by Mona Prince (AUC Press 2011) .
His latest fiction translation is The Madness of Despair by Ghayla F T Al Said (Banipal Books, 2021) and he has introduced and translated Poems of Alexandria and New York by Ahmed Morsi (Banipal Books, 2021).
Cohen's poetry translations for Banipal magazine include works by poets Ahmed Rashid Thani, Samer Abu Hawwash, Hala Mohammad, Ahmed Al-Mulla and Marwan Makhoul.
He is based in Cairo and is a contributing editor of Banipal.
---
Contributor's Issues
Banipal 68 - Short Stories (Summer 2020)
Banipal 63 - The 100 Best Arabic Novels (2018)
Banipal 69 - 9 New Novels (Autumn/Winter 2020)
Banipal 67 - Elias Khoury, The Novelist (Spring 2020)
Banipal 65 - The Beautiful Creatures of Fadhil Al-Azzawi (Summer 2019)
Banipal 57 - Syria in the Heart (Autumn/Winter 2016)
Banipal 66 - Travels (Autumn/Winter 2019)
Banipal 70 - Mahmoud Shukair, Writing Jerusalem (Spring 2021)
Banipal 74 - Celebrating Khalida Said and Modern Arabic Poetry (Summer 2022)
Banipal 61 - A Journey in Iraqi Fiction (2018)
Banipal 60 - Alaa al-Deeb, A Writer Apart (Autumn/Winter 2017)
Banipal 52 - New Fiction (2015)
Banipal 59 - The Longlist (Summer 2017)
Banipal 53 - The Short Stories of Zakaria Tamer (2015)
Banipal 56 - Generation '56 (Summer 2016)
Banipal 62 - A Literary Journey through Arab Cinema (2018)
Banipal 58 - Arab Literary Awards (Spring 2017)
Banipal 46 - 80 New Poems (2013)
Banipal 42 - New Writing from the Emirates (2011)