Khalil Sweileh (Suwailih)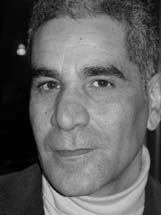 was born in Hasaka, Syria, in 1959. He has a BA in History (Damascus University,1986).

He published three collections of poetry 1986-2001, and since 2002 four novels. He is cultural editor for the Syrian newspaper Teshreen, and a correspondent for the Lebanese newspaper Al-Akhbar and Radio Monte Carlo.

He lives in Damascus.
In 2009 his book Warraq al-Hubb won the Naguib Mahfouz Medal for Literature. The English-language version, Writing Love, translated by Alexa Firat, is published by AUC Press in 2012.
His novel Remorse Test won the Sheikh Zayed Book Award for Literature in 2018, and is excerpted in Banipal 64 (Spring 2019).
---
Contributor's Issues
Banipal 64 - A Rebel named Hanan al-Shaykh (2019)
Banipal 51 - Celebrating Saadi Youssef (2014)
Banipal 58 - Arab Literary Awards (Spring 2017)