Nujoom al-Ghanem (Nujum al-Ghanim)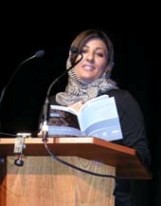 Nujoom al-Ghanem is recognised as one of the strongest modernist Emirati poets, rising to prominence in the 1980s in the Gulf region. She is a poet, writer and independent filmmaker, born in 1962 in Dubai. Since 1989 she has published seven collections of poetry, and now writes full-time.

In July 2010, she joined two other Emirati poets for the first readings of modern Emirati poetry in the UK – at the Ledbury Poetry Festival and at the London Literature Festival. The mini-tour was organised by Banipal magazine and supported by the Emirates Foundation.

She has directed four short films, and at the Fifth Dubai International Film Festival in December 2011 was lauded for Best Documentary in the Gulf and named the most promising UAE film-maker.
---
Contributor's Issues
Banipal 38 - Arab American Authors (2010)
Banipal 42 - New Writing from the Emirates (2011)