Basil Samara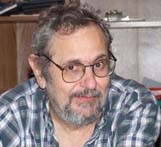 Basil Samara was born in 1948 in Tehran, Iran, to Lebanese parents who returned to Lebanon when he was ten.

Skilled in both art and science, he was awarded a PhD in Statistics from the University of Florida, Basil decided to work as a statistical consultant and take an early retirement to dedicate the remainder of his life to his more artistic inclinations such as music, Arabic calligraphy and geometric designs, wood carving, and writing and translating Arabic and English.

Following retirement Basil started a corporation, Caravelle Inc., for the promotion of Arab culture. The first project subsidized by this company was the establishment of a website, www.maqam.com , for the promotion, distribution, and publication of music from the Arab World and neighboring countries with similar musical traditions, namely Turkey, Iran, and Central Asia. Basil foray into music led to the publication of four Arabic music CD's by Munir Bashir, Asim Chalaby, Ziad Rahbani and Naji Hilal, and the publication of The Arabic Music and Song Book which contained notation and lyrics for folk and classical songs from the Fertile Crescent and Egypt.

He, then, directed his attention to Arabic calligraphy and has been working on two publications, The Turkish Masters of Arabic Calligraphy and Arabic Calligraphy for Non-Arab Designers (in progress). His computer Calligraphic designs were displayed at the MESA annual Meetings in 1993. Finally, he is dedicating himself to translation. He was a freelance translator for Al-Jadid Magazine and, currently, he is working on the translation of Lebanese poet Charbel Dagher which will be published soon.
---
Contributor's Issues
Banipal 53 - The Short Stories of Zakaria Tamer (2015)
Banipal 54 - ECHOES (Autumn/Winter 2015)