Alessandro Columbu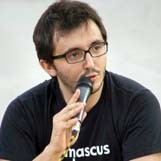 Alessandro Columbu is a PhD candidate and Arabic teacher in the department of Islamic and Middle Eastern Studies of the University of Edinburgh.

Originally from Sardinia, he obtained his BA Foreign Languages and Literatures and MA in Arabic Literature from the University of Bologna, Italy. He has studied at a number of academic institutions across Europe and the the Arab Middle East including the University of Barcelona, Damascus University, the School of Oriental and African Studies of London and the French Institute of the Near East of Beirut.

His translation from Arabic into the Sardinian language of Zakaria Tamer's Taksir Rukab (Breaking Knees, Riad el-Rayyes, 2002), is going to be published in the summer of 2015 by Condaghes, an independent publishing house based in Cagliari.
---
Contributor's Issues
Banipal 53 - The Short Stories of Zakaria Tamer (2015)