Samira Negrouche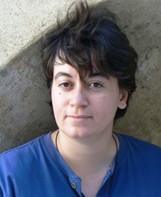 Samira Negrouche is an Algerian poet and author, living in Algiers. She is a medical doctor and also organises literary and poetry events. She is the author of several poetry collections including: À l'ombre de Grenade, Iridienne, and Cabinet Secret – a work with Enan Burgos.
Negrouche writes in French and translates Arabic poetry and has participated in interdisciplinary projects involving drama, video, photography and plastic arts. Her recent publication Le jazz des oliviers (avec 9 œuvres de Yves Olry) was published in Algeria by Tell in 2010 and was subsequently translated and published in Italy the following year.
In Paris, she recently published an anthology of contemporary francophone Algerian poets, Quand l'amandier refleurira (Editions de l'Amandier), and has created a show called "Soleils" that focuses on francophone Algerian poetry from the Thirties up to the present day. She has two works, Instance/Depart and Le dernier Diabolo, due to be published in France this year as well as a collection of her works by Ediciones Gog y Magog in Buenos Aires, Argentina.
---
Contributor's Issues
Banipal 45 - Writers from Palestine (2012)