Huda Hamed (al-Jahouri)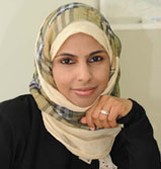 Huda Hamed is an Omani writer and journalist, with a degree in Arabic literature from Aleppo University, Syria.
She has published three collections of short stories and four novels. The story collections are Namima Maliha (2006, Salty Gossip), Laysa bil-dhabt kama Ureed (2009, Not exactly as I want), and Al-Isharah Bourtuqaliya al-Ann (2013, The Traffic Lights are Amber Now).
Her four novels are Al-Ashia' Laysat fi Amakiniha (2009, Things are Not in Their Place), which received the award of best novel in Oman for 2009. and was excerpted in Banipal 44, 2012. Her next novels are Allati Ta'udu al-Salalim (2014, Who Counts the Stairs) and Sanderillat Masqat (2016, Cinderellas of Muscat), and her latest one Assamina (2019, Our Names).
She is Managing Editor of Niswa quarterly cultural magazine, based in Muscat.
---
Contributor's Issues
Banipal 44 - 12 Women Writers (2012)
Banipal 71 - Salutes Ihsan Abdel Kouddous (Summer 2021)