Khalid al-Maaly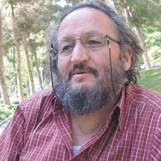 Khalid al-Maaly was born in the desert near al-Samawa, Iraq, in 1956. He is a poet, translator and publisher. He left Iraq in 1979, and settled in Cologne, Germany in 1980, where in 1983 he founded the publishing house Al-Kamel Verlag. A few years ago he moved to Beirut, and has extended the Al-Kamel Verlag to Beirut and Baghdad.
He has twelve poetry collections of his own works, some in German. He has translated works by a number of Arab poets such as Badr Shakir al-Sayyab, Adonis, Mahmoud Darwish, Sargon Boulus, Saadi Youssef, Unsi al-Hajj.

Al-Kamel Verlag is noted for its independence, and daring, and has published many western authors in Arabic translation – poets, novelists and thinkers, and many outspoken and modernist Arab authors in Arabic.
He is one of the featured voices in Banipal 56 – Generation '56, whose works and cultural initiatives have greatly contributed to the exchange of ideas and culture between the Arab world and the rest.
---
Contributor's Issues
Banipal 56 - Generation '56 (Summer 2016)
Banipal 37 - IRAQI AUTHORS (2010)