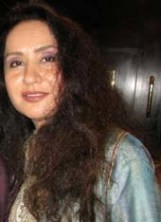 Raja Alem is an award-winning author from Jeddah, Saudia Arabia, who has published ten novels, two plays, biographies, short stories, essays, and works for children. She has received many awards, including UNESCO's Arab Woman's Creative Writing award, 2005. In 2011 she was joint-winner of the IPAF Arabic novel prize for her novel (The Doves' Necklace). She has some works published in English, Spanish and French, including My Thousand & One Nights: A Novel of Mecca (2007) and Fatma A Novel of Arabia (2003).
Contributor's Issues
Banipal No 42 New Writing from the Emirates (2011)

Latest News
16/02/2017
IPAF Short list Announced
[read more]
30/01/2017
Complete Digital Archive of Banipal is launched
[read more]
26/01/2017
Ali Bader selected as First Banipal Visiting Writer Fellow
[read more]
25/01/2017
Saif Ghobash Banipal Prizewinner Jonathan Wright and his author Saud Alsanousi celebrate in Manchester on 23 February
[read more]
16/01/2017
International Prize for Arabic Fiction 2017 – Longlist announced
[read more]
13/01/2017
Syrian writer Khaled Khalifa writes on being Syrian today – "the issue in Syria is not one of refugees but of a whole population that is being turned into either corpses or forced to flee while the world stands silently by"
[read more]
[read all news stories]