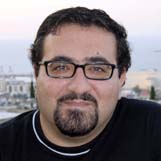 was born in Jesh, Galilee, in 1974. He has a diploma in scriptwriting from the Tel Aviv School of Screenwriting and a degree in Communications and Fine Art from Haifa University. He has worked as an editor in radio and print journalism. He was a radio presenter working in Haifa, where he was until recently editor-in-chief of Al-Madina newspaper. He has written numerous short stories, plays for theatre, and scripts for film and TV. In 2003 he took part in the annual international playwrights' residency at the Royal Court Theatre, London. He has received several awards for his work, among them first prize in the 2000 A M Qattan Foundation Literary Competition for his first novel, Al-Sirk [The Circus], and the 2003 "Young Writer" Award, for his short story collection for his short story collection Stories in Time of Need,also from the A M Qattan Foundation. He lives in Acre.


Ala Hlehel is one of four authors touring the UK this August with Banipal Live 2006. We take this occasion to republish his short story My Husband is a Bus Driver from Banipal 23. It is also published in Unbuttoning the Violin, seleccted works by the authors on tour, along with two other stories, all translated by Anthony Calderbank.
Contributor's Issues
Banipal No 15 /16 – Autumn 2002/Spring 2003
Banipal No 23 Summer 2005
Banipal No 45 Writers from Palestine (2012)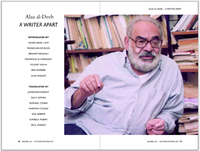 Latest News
24/04/2018
Ibrahim Nasrallah wins 2018 International Prize for Arabic Fiction
[read more]
07/03/2018
Sheikh Zayed Book Award announces the 2018 Shortlists
[read more]
26/02/2018
Shortlist Announced for IPAF 2018

[read more]
22/02/2018
On 3 March: Three award-winning translators to discuss "Translating Arabic Fiction Today"
[read more]
17/01/2018
Longlist for 2018 IPAF announced
[read more]
10/01/2018
Robin Moger is winner of 2017 Saif Ghobash Banipal Translation Prize
[read more]
[read all news stories]