Najwa Bin Shatwan (Binshatwan)
Najwa Bin Shatwan is a Libyan academic and novelist, born in 1970 in Ajdabiya, Libya. She has an MA in educational sciences and was a lecturer at the University of Benghazi, formerly known as Garyounis University. In 2017 she completed a PhD in Human Sciences at La Sapienza University, Rome, on the Slave trade in Libya during the Ottoman period.
Her first writing was poetry, with one collection published in 2002. She turned to writing a play, for which she was awarded in 2003 the Sharjah Festival Arab Creativity Prize. But fiction (both short stories and novels) became her metier. She has six collections of short stories, the fifth one published in Spring 2018 while she was the Banipal Visiting Writer Fellow at St Aidan's College, University of Durham. Her sixth collection of short stories (An Ongoing Coincidence) was completed during her Fellowship, and was published in 2019 by Riad El- Riad El-Rayyes, Beirut.
Najwa is the author of three novels: The Horses' Hair (2005), which won the inaugural Sudanese al-Begrawiya Festival prize for Best Arabic Novel in 2005 – a new revised edition is forthcoming), and Orange Content (2008).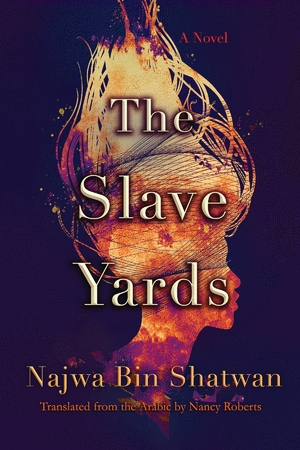 Her third novel, The Slave Yards (2015), was shortlisted for the 2017 International Prize or Arabic Fiction. An excerpt from the novel was published in a booklet for the IPAF Award Ceremony, and also in Banipal 58 – Arab Literary Awards (Spring 2017). The full English translation, by Nancy Roberts, is published by Syracuse University Press, May 2020. It was reviewed in Banipal 68 by Stephanie Petit and can be read here https://www.banipal.co.uk/book_reviews/157/the-slave-yards-by-najwa-bin-shatwan/
Najwa was chosen as one of the 39 best Arab authors under the age of 40 by the Beirut39 project of the Hay Festival in 2009, and her story "The Pool and the Piano" was included in its anthology, Beirut39: New Writing from the Arab World (published by Bloomsbury in March 2012, edited by Samuel Shimon.
Banipal 40 – Libyan Fiction, Spring 2011, published a short story by Najwa, "His Excellency the Eminence of the Void", which is available to read on the Banipal website at this link: http://www.banipal.co.uk/selections/78/228/najwa-binshatwan/ Banipal 42, Autumn/Winter issue that same year, also published her Letter from Benghazi about the prospects. She also has a short story, "Return Ticket", in Banthology: Stories from Unwanted Nations, a collection of specially commissioned stories, published by Comma Press in January 2018, from the original seven nations 'banned' from the USA by Donald Trump.
In the same year as the Fellowship, Najwa visited Bahrain, 9 May, to give a lecture at the Sheikh Ebrahim bin Mohammed Al Khalifa Centre for Culture and Research, and spoke specifically about her experience as the Banipal Visiting Writer Fellow in Durham at St Aidan's College.
---
Contributor's Issues
Banipal 58 - Arab Literary Awards (Spring 2017)
Banipal 40 - Libyan Fiction (2011)
Banipal 42 - New Writing from the Emirates (2011)