Saghir Ouled Ahmed (1955-2016)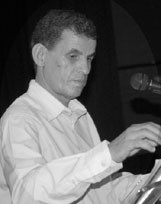 Saghir Ouled Ahmed died in April 2016 from the cancer he had been suffering from for some months.
A prominent, creative and satirical poet from Tunisia, Saghir Ouled Ahmed was born in Sidi Bouzid, Tunisia, in 1955. His first collection of poetry, Nashid al-Ayam al-Sitta, was banned in 1984. In 1993 founded the Arab world's first House of Poetry, a performance space for modern poetry. Oulad Ahmed is famous for his satirical articles. His poems are translated into French, German, and Dutch.
In 2013 he published his poetric diaries, entitled The Poetic Leadership of the Tunisian Revolution. His poem "The Will" was published in Banipal 39 – Modern Tunisian Literature (Autumn/Winter 2010).
He will always be remembered as a forthright and progressive person, who committed himself to satirising authoritarianism and religious extremism through poetry.
---
Contributor's Issues
Banipal 39 - Modern Tunisian Literature (2010)