Khulood Al-Mu'alla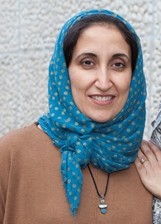 Khulood Al Mu'alla won the Buland Al-Haidari Award for Young Arab Poets at the 30th Assilah International Cultural Festival in Morocco in 2008, an event celebrating visionary poets and intellectuals from all over the Arab World. She was the first poet from the Gulf to win this award.

Active on the Gulf poetry scene, she was born in Umm Al-Quwain, UAE, moving to Ras Al-Khaimah as a child. Since 1997 she has published four collections of poetry.

In July 2010 Khulood participated with Banipal magazine and two other Emirati authors, Nujoom al-Ghanem and Khalid Albudoor, in the UK's Ledbury Poetry Festival and the London Literature Festival.

In September 2011 she participated with fellow Emirati author Sarah al-Jarwan in the International Berlin Literature Festival in events supported by the Emirates Foundation as part of Banipal 42's main theme on writings of contemporary authors from the Emirates.

In December 2011 she read her poems at the NYU-AD and Banipal poetry event, launching Banipal 42 in Abu Dhabi, and in 2012 she read her poems, translated in Banipal issues, at the Emirates Airline International Literature Festival in Dubai.
---
Contributor's Issues
Banipal 42 - New Writing from the Emirates (2011)
Banipal 38 - Arab American Authors (2010)