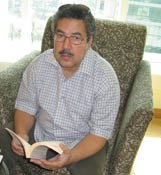 Saif al-Rahbi is a poet and prose writer, born in 1956 in Sroor, a village in Oman. He was sent to school in Cairo when a young boy, and there began his lifelong passion for literature and poetry.

He has lived and worked in Cairo, Damascus, Algeria, Paris for many years, London, and other Arab and European cities. His third poetry collection Ajras al-Qatia'a [The Bells of Rapture], published in 1985 when he was living in Paris, and marked him as "one of the most distinguished new poetic voices in the Gulf region".

Later, he returned to Oman and founded Nizwa, Oman's main quarterly cultural magazine and highly regarded throughout the Arab world. Today he is its editor-in-chief. He has published a number of volumes of poetry, prose and essays.

Saif al-Rahbi is one of the featured voices in Banipal 56 – Generation '56, whose works are a modernist and open-hearted contribution to contemporary literary life and to international and inter-cultural exchange of ideas and experiences.
Contributor's Issues
Banipal No 4 Spring 1999
Banipal No 2 June 1998
Banipal No 23 Summer 2005
Banipal No 56 Generation '56 (Summer 2016)
Banipal No 33 Autumn/Winter 2008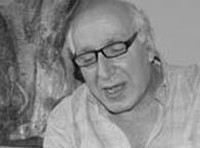 Latest News
16/02/2017
IPAF Short list Announced
[read more]
30/01/2017
Complete Digital Archive of Banipal is launched
[read more]
26/01/2017
Ali Bader selected as First Banipal Visiting Writer Fellow
[read more]
25/01/2017
Saif Ghobash Banipal Prizewinner Jonathan Wright and his author Saud Alsanousi celebrate in Manchester on 23 February
[read more]
16/01/2017
International Prize for Arabic Fiction 2017 – Longlist announced
[read more]
13/01/2017
Syrian writer Khaled Khalifa writes on being Syrian today – "the issue in Syria is not one of refugees but of a whole population that is being turned into either corpses or forced to flee while the world stands silently by"
[read more]
[read all news stories]