Sonallah Ibrahim was born in 1937. After studying law and drama at Cairo University, he became a journalist in Cairo until his arrest and imprisonment in 1959 as an advocate for the Left. Upon his release in 1964, he briefly returned to journalism in Egypt before moving to Berlin to work for a news agency and to Moscow where he studied cinematography. He returned to Egypt in 1974 and since then has dedicated all his time to writing.

He has written a number of novels and short stories, as well as a dozen children's books. He has also translated a variety of books into Arabic. He is well known for his documentary novels that employ a literary style unique in Arabic writing. In 1998 his novel Sharaf was awarded best Egyptian novel. In 1999 he was a visiting associate professor in the Department of Near Eastern Studies of the University of California at Berkeley. Among his many translated works are Zaat (2001), Stealth (2010) and That Smell & Notes from Prison (2013), as well as the forthcoming English translation of his 1984 novel Beirut, Beirut. His book, Yawmiyat al-Wahat (Diaries of Oasis Prison), Cairo, 2005, is excerpted in Banipal 50.
Contributor's Issues
Banipal No 34 The World of Arab Fiction (2009)
Banipal No 43 Celebrating Denys Johnson-Davies (2012)
Banipal No 50 Prison Writing (2014)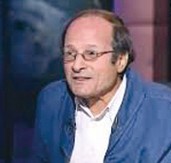 Latest News
07/03/2018
Sheikh Zayed Book Award announces the 2018 Shortlists
[read more]
26/02/2018
Shortlist Announced for IPAF 2018

[read more]
22/02/2018
On 3 March: Three award-winning translators to discuss "Translating Arabic Fiction Today"
[read more]
17/01/2018
Longlist for 2018 IPAF announced
[read more]
10/01/2018
Robin Moger is winner of 2017 Saif Ghobash Banipal Translation Prize
[read more]
01/12/2017
First Shortlist announced for the 2017 Saif Ghobash Banipal Prize for Arabic Literary Translation
[read more]
[read all news stories]