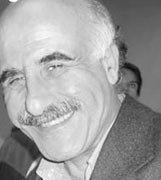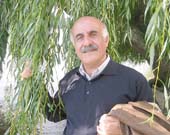 was born in Tyre, Lebanon in 1945. He graduated in Arabic Literature from the Lebanese University, Beirut.

He has twelve collections of poetry and one novel. His work has been translated into several European languages, including selected poems in Italian, a volume in German translation, a number of works including his epic poem Tyre in French, and a volume of essays. He is presently cultural editor of As-Safir newspaper in Beirut and pens many articles critical of hypocrisy, Arab politics and fundamentalism.

In Banipal 21 Abbas Beydoun writes about his LITERARY INFLUENCES.

In Banipal 29, an excerpt from his novel Tahleel Dumm [Blood Test] is featured, translated by Max Weiss, who was awarded the 2007 King Fahd Award for Translation of Arabic Literature for the translation manuscript. Blood Test was published by Syracuse University Press in 2008 – ISBN 978-0-8156-0912-4. In this his first novel, Beydoun recounts the efforts of a young man to explore his own history and identity through his encounters with the family and friends who surround him. The sudden death of his father prompts him to follow the physical and psychological traces he left behind, a journey that raises as many questions as it answers. The young man's search for a sense of belonging and rootedness leads him both forward and back as the narration travels in time and place over two continents and several generations.
Contributor's Issues
Banipal No 28 Spring 2007
Banipal No 29 Summer 2007
Banipal No 10 /11, Spring 2001/Summer 2001
Banipal No 3 October 1998
Banipal No 22 Spring 2005

Latest News
16/02/2017
IPAF Short list Announced
[read more]
30/01/2017
Complete Digital Archive of Banipal is launched
[read more]
26/01/2017
Ali Bader selected as First Banipal Visiting Writer Fellow
[read more]
25/01/2017
Saif Ghobash Banipal Prizewinner Jonathan Wright and his author Saud Alsanousi celebrate in Manchester on 23 February
[read more]
16/01/2017
International Prize for Arabic Fiction 2017 – Longlist announced
[read more]
13/01/2017
Syrian writer Khaled Khalifa writes on being Syrian today – "the issue in Syria is not one of refugees but of a whole population that is being turned into either corpses or forced to flee while the world stands silently by"
[read more]
[read all news stories]