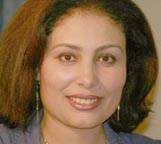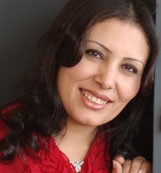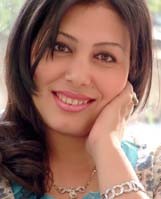 Mansoura Ez-Eldin was born in 1976 in a small village in Delta Egypt, and graduated in journalism from Cairo University in 1998. She started publishing her short stories in the Arab press when she was just 21, and a collection Dhaw'a Muhtaz [Shaken Light] was published in Cairo in 2001. She has worked in Egyptian television, and presently runs the book review section of the renowned Egyptian literary magazine Akhbar al-Adab [Literature News].

Her successful debut novel Maryam's Maze (excerpted in Banipal 25, trans. Paul Starkey,) was published by the award-winning Merit publishers in 2004, with the English edition published by AUC Press, Cairo, distributed in the UK by Arabia Books. Click here for a review and interview with the author.

Mansoura Ez-Eldin's second novel Beyond Paradise was short-listed for the 2010 International Prize for Arabic Fiction (commonly known as the Arabic Booker). She was a participant in the prize's workshop for writers.

In 2010 she was also selected as one of the Beirut39 authors of the Hay Festival project with World Book Capital of Beirut. Click here for an interview with her during this project.

In August 2006 Mansoura was one of four Arab authors touring the UK with Banipal Live 2006. Banipal 22 published a translation of one of her stories. We are pleased to reproduce Butrus: A Distant Hazy Face here. It is also repubiished along with four new stories in Unbuttoning the Violin, selected works by the four authors touring with Banipal Live 2006.

In 2009, the Beirut39 project selected her as one of the 39 best Arab authors below the age of 40.
"Arab women authors are nowadays writing with more audacity than ever before, especially in Egypt… They are writing about the female body and sexuality, religious and political issues in a much more open way. In fact they are the most daring group of writers, having the most impact on the new writing scene." In this interview in the London local newspaper Camden New Journal, which was conducted in Edinburgh during Banipal Live literary Tour. Mansoura Ez-Eldin looks at how Arab women are at the forefront of a literary revival in the Middle East.
Contributor's Issues
Banipal No 22 Spring 2005
Banipal No 25 Spring 2006
Banipal No 48 Narrating Marrakech (2013)
Banipal No 44 12 Women Writers (2012)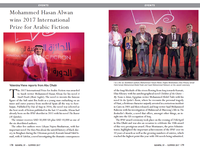 Latest News
21/09/2017
Banipal events coming up in October
[read more]
31/08/2017
Banipal magazine at the Berlin Literature Festival – 8 September
[read more]
13/07/2017
Banipal 59 – The Longlist is out today with a host of new fiction and poetry
[read more]
10/07/2017
ROBERT IRWIN to give the 2017 Saif Ghobash Banipal Translation Prize Lecture on Season of Migration to the North: 'The most important Arabic novel of the 20th Century'
[read more]
07/06/2017
Pen International launches global campaign for displaced writers
[read more]
16/05/2017
The Sheikh Hamad Award for Translation and International Understanding 2017 is open for applications
[read more]
[read all news stories]