Wen-chin Ouyang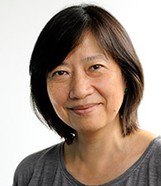 Wen-chin Ouyang is Professor of Arabic Literature at SOAS, University of London and teaches across a range of courses, including classical, modern and popular Arabic literature.
Born in Taiwan and raised in Libya, and a native speaker of Arabic and Chinese, she completed her BA in Arabic at Tripoli University and PhD in Middle Eastern Studies at Columbia University, in New York. She is author of Literary Criticism in Medieval Arabic-Islamic Culture: The Making of a Tradition (1997), Poetics of Love in the Arabic Novel (2012) and Politics of Nostalgia in the Arabic Novel (2013) and has also published widely on The Thousand and One Nights, and has contributed to many other volumes, including Companion to Magical Realism (Tamesis 2005), and New Perspectives on the Arabian Nights: Ideological Variations and Narrative Horizons (Routledge 2005). She is also co-editor of The Novelization of Islamic Literatures – Omri, Mohamed-Saleh and Ouyang, Wen-Chin. (2007), Edinburgh University Press.
She was a member of the judging panel for Man Booker International Prize for Fiction 2013-15 and the 2017 Saif Ghobash Banipal Prize for Arabic Literary Translation.
---
Contributor's Issues
Banipal 62 - A Literary Journey through Arab Cinema (2018)
Banipal 61 - A Journey in Iraqi Fiction (2018)
Banipal 41 - Celebrating Adonis (2011)