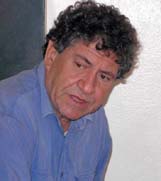 Jaber Alwan was born in Babylon, Iraq, in 1948 in 1970 from the Institute of Fine Art in Baghdad. In 1972 he arrived in "the city of his dreams", Rome, with only $100 in his pocket and started painting, like many artists, in the famous Piazza Navona.

In 1975 he gained a diploma degree in Sculpture from the Rome Academy of Fine Art. Ten years later the Municipality of Rome awarded him the prize of Best Artist, the first foreigner to receive this prize. Jaber exhibits his work almost every year in a number of one-man shows and group exhibitions around the world.

He has works on permanent display in the Museums of Modern Art of Baghdad, Damascus, Qatar and Kuwait, the Opera House of Culture in Cairo, also at the Gulbenkian Museum, Lisbon, the Dei Diameni Palace, Ferrara, and the Academy Museum, Ravenna; and he has innumerable works in private collections in many cities in Europe, Russia, Japan and Chile.

His task as an artist is, Jaber says: "To be a witness to my time, and, in particular, to be witness to my own passions without being coerced into falsifying meaning; I want to speak my mind clearly, to be normal, but without being cheap, in fact I wish to say utterly novel things.

"For more information, go to http://www.jaberalwan.com/
Contributor's Issues
Banipal No 30 Autumn/Winter 2007

Latest News
24/04/2018
Ibrahim Nasrallah wins 2018 International Prize for Arabic Fiction
[read more]
07/03/2018
Sheikh Zayed Book Award announces the 2018 Shortlists
[read more]
26/02/2018
Shortlist Announced for IPAF 2018

[read more]
22/02/2018
On 3 March: Three award-winning translators to discuss "Translating Arabic Fiction Today"
[read more]
17/01/2018
Longlist for 2018 IPAF announced
[read more]
10/01/2018
Robin Moger is winner of 2017 Saif Ghobash Banipal Translation Prize
[read more]
[read all news stories]