Khairy Shalaby (1938-2011)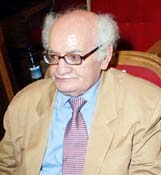 Khairy Shalaby died at the age of 73 after a fatal heart attack on 9 September 2011 at his home in Cairo. Born in Kafr al-Shaykh village, the Nile Delta, in 1938, he is one of Egypt's most distinguished and popular authors. He published his first novel in the late 1950s, and to date has authored over 70 works, including 12 novels, collections of short stories, historical tales, and critical studies.?
Many of his books became bestsellers and were translated into several languages including English, French, Italian, Russian, Chinese, Urdu and Hebrew, and some adapted for film and television.
The Arabic edition of The Lodging House, Wikalat 'Atiya, was awarded the Naguib Mahfouz Medal for Literature in 2003. The English edition (AUC Press), translated by fellow Egyptian Farouk Abdul Wahab, professor of Arabic literature at the University of Chicago, won the 2007 Saif Ghobash-Banipal Prize for Arabic Literary Translation.

Among the comments on Shalaby's work by the judges were "The Lodging House is a wise, anarchic, ribald, compassionate compendium of life at its most precarious and most ebullient" (Maya Jaggi), "The portrait that it offers is authentic, affectionate and critical" (Roger Allen), "an outspoken message, in defence of the forgotten, the downtrodden and the poorest of the poor" (Saadi Youssef). For full information about the 2007 award, click here
Shalaby sees himself as writing the literature of "the Egyptian street" and feels a duty to give new life to people from the cities and villages through his characters.

He was awarded the Egyptian National Prize for Literature 1980-1981, and is presently editor-in-chief of both Poetry Magazine and Library of Popular Studies books series published by the Egyptian Ministry of Culture.
---