has published five novels and two short story collections, the second of which, Shajarat al-Fuhood (Amman, 1995), was awarded the State Prize for Literature. She works as a journalist and was appointed editor-in-chief of the fortnightly cultural tabloid Amman, established for Amman 2002 cultural capital year.
Contributor's Issues
Banipal No 13 Spring 2002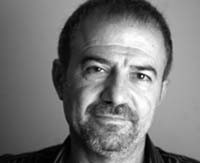 Latest News
04/03/2015
In conversation with Sinan Antoon on writing and translating Iraq
[read more]
13/02/2015
Shortlist for the 2015 International Prize for Arabic Fiction announced
[read more]
02/02/2015
Upcoming Banipal book club meetings
[read more]
19/01/2015
Announcement of 2014 Winner of Saif Ghobash Banipal Prize for Arabic Literary Translation
[read more]
12/01/2015
Sheikh Zayed Book Award announces 'Arabic Culture in other Languages' 2015 longlist
[read more]
12/01/2015
IPAF 2015 Longlist has been announced!
[read more]
[read all news stories]