Inaam Kachachi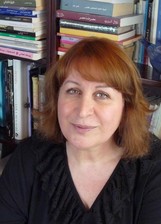 was born in Baghdad in 1952, and studied journalism, working in the Iraqi press and radio. She moved to Paris in 1979 where she gained a PhD and worked as a journalist. She is presently Paris correspondent of Asharq Al-Awsat and Kol Al-Usra newspapers.

She has published two non-fiction books, Lorna, her years with Jawad Selim (Arabic, Dar el-Jadid, Beirut, 1998), and Paroles d'Irakiennes (French, Le Serpent à Plumes, Paris, 2003), and in 2004 made a 30-minute documentary film about Naziha Al Dulaimi, the iraqi woman doctor who, in 1959, was the first woman to become a minister in an Arab country.

Her debut novel Sawaqi al-Quloob [Streams of Hearts], was excerpted in Banipal 26, in a translation by Muhayman Jamil. Sawaqi al-Quloob was published in 2005 by Al-Muassassa al-Arabiya lil-Nashr, Amman-Beirut.

Inaam Kachachi's latest novel, Al-Hafeeda al-Amreekiya [The American Grand-daughter], published by Dar el-Jadid, 2008, has been shortlisted for the 2008-09 International Prize for Arabic Fiction.


---
Contributor's Issues
Banipal 64 - A Rebel named Hanan al-Shaykh (2019)
Banipal 49 - A Cornucopia of Short Stories (2014)