Badr Shakir al-Sayyab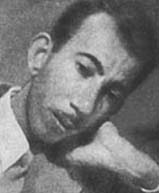 (1924–1964)
died tragically at the early age of 38, but in his short life he was largely responsible for a wholescale revolution in Arab poetics through his poetic experimentation and innovation at a time of great turmoil in the Arab world – the end of the Second World War and the creation of Israel. Al-Sayyab's talent allowed him to write poetry that was completely new, both in form and in content, overturning the metrics of classical Arab poetry. He drew on ancient Iraqi and Greek mythologies and wrote about complex issues in simple language with powerful imagery.

He was influenced greatly by the English romantic poets, notably Keats, Shelley, Byron and Wordsworth, but above all by his contemporaries in spirit Edith Sitwell (1887-1964) and T S Eliot (1888-1965), both of whom had published ground-breaking collections just before al-Sayyab's birth (Sitwell's Façade and Eliot's The Waste Land).

Together with fellow Iraqi poets, Nazik al-Malai'ka and Abdul Wahab al-Bayati, the Arab free verse poetry movement gained decisive momentum through the seven collections of Al-Sayyab published in the 1950s and early 1960s, notably the now renowned poem "Song of Rain" from his third and highly significant collection of 1960. It is considered by Arab critics and readers to be until now the most important collection of modern Arabic poetry.

---
Contributor's Issues