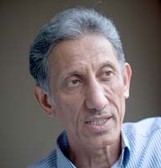 Taleb Alrefai was born in Kuwait on 10th May, 1958. In 1982, he obtained his degree in Civil Engineering from the College of Engineering and Petroleum at the University of Kuwait and began writing during his studies in the mid-seventies. He published his first collection of short stories in 1992, under the title of Tal 'Amrak Abu 'Ujjaj (Live Long Abu 'Ujjaj) and has published six more collections and four novels since then.
His first novel, Zillu al-Shamsi, (The Sun's Shade), was republished in a revised edition in 2012. He has also written one play, Urs al-Nari (Wedding of Fire). In 2002, he won the State Prize for Letters for his novel, Ra'ihat al-Bahri (The Scent of the Sea) and his works have been translated into English, French and German.
He was also Chair of Judges for the 2009/2010 International Prize for Arabic Fiction and is founder of Al-Multaqa (Cultural Circle), a discussion group which meets in his house every two weeks to discuss literature, thought and art.
Contributor's Issues
Banipal No 28 Spring 2007
Banipal No 47 Fiction from Kuwait
Banipal No 49 A Cornucopia of Short Stories

Latest News
13/02/2015
Shortlist for the 2015 International Prize for Arabic Fiction announced
[read more]
02/02/2015
Upcoming Banipal book club meetings
[read more]
19/01/2015
Announcement of 2014 Winner of Saif Ghobash Banipal Prize for Arabic Literary Translation
[read more]
12/01/2015
Sheikh Zayed Book Award announces 'Arabic Culture in other Languages' 2015 longlist
[read more]
12/01/2015
IPAF 2015 Longlist has been announced!
[read more]
06/11/2014
The first ever BALMAL Open Evening was very successful: overflowing with visitors and animated conversation!
[read more]
[read all news stories]