Haviva Pedaya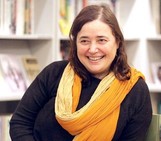 Haviva Pedaya was born in Jerusalem in 1957. She grew up in the local neighbourhood of Mekor Baruch, after her family had immigrated from Baghdad, Iraq. She is the great granddaughter of acclaimed Kabbalist and author, Rabbi Yehuda Fatiyah (1859-1942) who left Baghdad in 1933 and settled in Jerusalem, whose son, Rabbi Shaul Fatiyah (1908-1982), also a Kabbalist, passed down the musical tradition of Jewish-Iraqi liturgical poetry to his grandchildren, who include Haviva Pedaya's brother, the poet Rabbi Yehuda Ovadia Fatiyah. She studied Kabbalah and Jewish Thought at the Hebrew University in Jerusalem. She later moved to the city of Beersheba, where she is a fulltime professor at Ben Gurion University's Department of Jewish History.
Her earliest poems appeared in 1994 in the magazine, Rooms ('chadarim'). Her debut poetry collection, From a Sealed Ark, was published in 1996, followed by Birthing of the Anima in 2002. Both collections are heavily reliant on the Kabbalah world of iconography and ideas, as well as on Hebrew scriptures, Midrash (biblical exegesis,) prayer, and poetry, and are profoundly influenced by ancient Hebrew.
Her third book, Blood's Ink, was published in 2009, and marked, as hailed on its cover, "a reversal of the covert-overt dynamics in the layers of her poetry". It contains explicit references to her move from Jerusalem to Beersheba and features the first instances of her protest and Mizrahi (Jewish Middle Eastern) poetry.
Her debut novel, The Eye of the Cat, was published in 2008. She has since published an additional two poetry collections, and two novels. In 1988, Pedaya won the Harry Hershon Award of the Hebrew University of Jerusalem. In 1997, she won the Bernstein Prize for her first poetry collection, the President's Literature Award for her second one in 2004, and the Yehuda Amichai Literary Award for her third in 2012.
A complete essay on Haviva Pedaya's poetry by Almog Behar, from which these biographical details have been extracted, is published in Banipal 72 – Iraqi Jewish Writers (Autumn/Winter 2021)
---
Contributor's Issues
Banipal 72 - Iraqi Jewish Writers