Ali Douagi (1909-1949)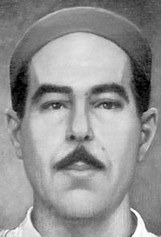 Ali Douagi (1909-1949) is regarded as founding father of the Tunisian short story. He wrote umpteen stories, plays, poems and songs, his short stories being posthumously collected and published in 1969 in a volume entitled Sleepless Nights. For more about Ali Douagi and the Taht Essour (Under the Wall) literary group go to Banipal 39 – Modern Tunisian Literature, pp46-47.
The film In the Land of Tararanni (1973), directed by Férid Boughedir, Hamouda Ben Halima and Hédi Ben Khalifa, was based on three short stories by Ali Douagi, taken from Saharat Minhu al-Layali (Sleepless Nights), the posthumously published anthology of short stories by Ali Douagi. The stories included "The Broken Streetlight", which was translated especially for Banipal 62 – A Literary Journey through Arab Cinema, as part of the SAFAR Film Festival (13-18 September).
---
Contributor's Issues
Banipal 62 - A Literary Journey through Arab Cinema (2018)