Koutaiba al-Janabi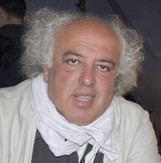 Koutaiba al-Janabi is a photographer, film-maker and screenwriter, born in Baghdad. He graduated from the Budapest Academy of Drama and Cinema as a cinematographer, studying under the Oscar-winning cinematographer Lajos Koltai. Before moving to live in London, he worked in the Hungarian film and television industry and pursued a PhD on the aesthetics and history of Arab cinema. He has produced and directed a number of short films and documentaries around the themes of displacement, alienation and exile, which are very personal to his own experience.
His first feature film was the award-winning Leaving Baghdad. Independently produced, the film won awards and was shown at many festivals and other screenings. Stories of Passers Through is a collection that he describes as "A visual diary, using the medium of film and photography to process my feelings and nightmares". It is the second in his trilogy of independent feature films, the first being the aforementioned Leaving Baghdad (British Independent Film Awards 2011 – winner of the Raindance Award, nominee for Cinema for Peace in Berlin, and Dubai International Film Festival). The third, an experimental feature film, The Woodman, is in post-production.

For more about Koutaiba al-Janabi, go to the Traces Project.
---
Contributor's Issues
Banipal 62 - A Literary Journey through Arab Cinema (2018)