Bushra el-Fadil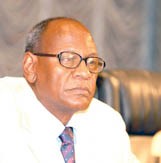 Bushra el-Fadil was born in the village of Araggi in the Northern State of Sudan in 1952. He moved with his family to the village of Wad El-bor in the state of Al Jazirah in central Sudan, however, where he received his primary education and where his family still lives today.
With a PhD in Russian from Moscow, he taught Russian literature and language at Khartoum University until he was expelled in the early 1990s along with many other lecturers and hundreds of student after protests about the military coup by Omar al-Bashir.
He has four collections of short stories, and currently lives in Saudi Arabia.
---
Contributor's Issues
Banipal 56 - Generation '56 (Summer 2016)