Kamal Elgizouli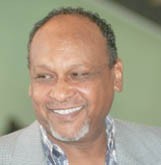 Kamal Elgizouli is a poet, fiction writer and critic, also a lawyer, international law expert, and human rights activist.
Born in Omdurman, Sudan, in 1947, he obtained a Master's of Law from the College of International Law and International Relations of the Kiev Governmental University in 1973. He has published many poetry collections and books on politics, history and society. Some of his poetry and fiction is translated into English, Russian, and Ukrainian languages.
He was a founder member of the Sudanese Writers' Union and its secretary-general for several terms. He is a Pen International laureate and honorary member of its London office.
He has hundreds of published articles and research papers presented at conferences, symposia and workshops in Sudan and abroad.
---
Contributor's Issues
Banipal 56 - Generation '56 (Summer 2016)