Mohammad Jamil Ahmad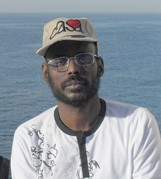 Mohammad Jamil Ahmad is a Sudanese poet and writer, born in 1967 in Port Sudan. Educated in Sudan, he writes on literary matters and ideas for various Arab newspapers and magazines. His first novel, Barr El-Ajam, was published in 2007 in Damascus, Syria. The novel won the Appreciation Award of the Tayeb Salih Competition for Novel Writing Excellence in 2005.

In 2010 he won the Appreciation Award of the Education Journalism category in the Arab Journalism Competition for his article "Narrative interpretation of the Italian novelist and philosopher Umberto Eco's novel Baoudolino". His first poetry collection, "The Senses' Mail" was published in 2011 by The Literary Club of Al-Jawf, Saudi Arabia.
His book, Janus's Mask: Political Islam and the Interpretation Dialectic, was published in 2016 by Totel Publication Bookstore, in Istanbul, Turkey. He works and lives in Riyadh, Saudi Arabia.
---
Contributor's Issues
Banipal 55 - Sudanese Literature Today (Spring 2016)