Being Abbas El Abd

by Ahmed Alaidy

Translated by Humphrey Davies

The American University of Cairo Press, 2006, 131pp,
ISBN 977-416-004-2


Being in the Conditional


Being Abbas El Abd describes the thoughts and encounters of a disembodied narrator. With the rancor of the "I've-got-nothing-left-to-lose generation", Awni lashes out at society, life, human relations, and even himself. Alaidy's character is a bitter realist, a Salah Jaheen who's come back with a vengeance, sparing nothing and no one. A poetry of cynicism and a scathing humor fuel a highly experimental work, giving rise to a new man from the underground, moved by a voice, a presence.

Who is Abbas? What is he? "What am I and what are you?" Abbas asks Awni, "you and I are one". Abbas is a voice that comes out of Awni, the "autistic" narrator, pushing him out of his depression and internal landscape. Abbas is the postmodern voice, sui generis, trying to prevail over the doubtful Awni and move into his head. Abbas manifests himself in a telephone ring; he is also a reflection, the "copy", the speaking hologram that is then pasted on Awni's screen; he is the SMS that J and L; he is also the text that turns the logos on its head, beyond Derrida's imagination. With Abbas, Awni is between parentheses, "Ab(Awni)bas", between ab (the form of negation) and bas (the form of cessation, bas as in khalas, kifaya, enough!).
Ahmed Alaidy signing a copy of Being Abbas El Abd for Kate Griffin
of Arts Council England at the Cairo Book Fair, 2007
The title is a verb interrupted. Being Abbas El Abd [An Takun 'Abbas al-'Abd], describes a suspended state of being, of being in the conditional, only insofar as. By subverting, from the start, "to be or not to be", Alaidy undermines Egypt's relation to Shakespeare, to English education and to the good old days. He performs a de-romanticisation that leaves no nostalgia and no regrets. Language itself is desacralised; this is the moment of the profane in Arabic literature, spewing a new aesthetic. The work employs metaphors of urine and spit, words that claim knowledge yet are hollow; medications divorced from their cure, repeated ad nauseam ("Partacozine . . . Particozine . . . Particozine") in a whirlpool that grips the reader and shows him no mercy. Communication leads nowhere but to compulsive repetition of words, going back and forth, signifying nothing. Living in the world of permanent phobias, the narrator rehearses them in order to feel comforted by their presence: "Dementophobia: fear of madness. 'Don't be scared.' Decidophobia: fear of making decisions. 'Don't be scared.' Doxophobia . . . Hypegiaphobia . . . Mastigophobia . . .". The narrator is a subject in a Beckett play, surrounding himself with language. All he does is conjure up Abbas – his accomplice, his double.

Humphrey Davies outdoes himself in capturing the "beautiful" in Alaidy's work. The translator accepts the invitation into the gutter, the pit, and the bathroom where our hero relieves himself while negotiating with a prostitute over the phone: ". . . rev their rotors, diddle their dynamos. So anyway, tell me, are you a big girl yet?!" "I was a big girl before your grandfather was old enough to pluck his armpits." No punches are spared. Davies's work is that of a daredevil who translates the exquisite poetry of the abject in Being Abbas El Abd. However, his "translator's note," tucked neatly at the end, could have worked more effectively in the beginning of the novel. Some readers might benefit from a warning about entering this text, others will require an encouragement to persevere through certain parts (Awni's encounter with the two women) that risk confusing them. This cautioning is only to alert readers to a narrative play that is constitutive of literary experience and the work's experimental value.

Ahmed Alaidy

Humphrey Davies, winner of the inaugural Banipal Prize for Arabic Literary Translation in 2006

From Banipal 30 - Autumn/Winter 2007

Back to top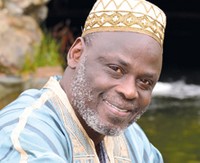 Latest News
07/03/2018
Sheikh Zayed Book Award announces the 2018 Shortlists
[read more]
26/02/2018
Shortlist Announced for IPAF 2018

[read more]
22/02/2018
On 3 March: Three award-winning translators to discuss "Translating Arabic Fiction Today"
[read more]
17/01/2018
Longlist for 2018 IPAF announced
[read more]
10/01/2018
Robin Moger is winner of 2017 Saif Ghobash Banipal Translation Prize
[read more]
01/12/2017
First Shortlist announced for the 2017 Saif Ghobash Banipal Prize for Arabic Literary Translation
[read more]
[read all news stories]