Book Reviews
Paul Blezard reviews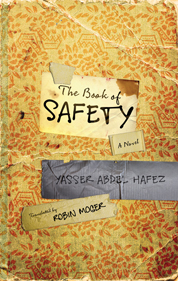 The Book of Safety
by Yasser Abdel Hafez
translated by Robin Moger
Hoopoe Fiction, AUC Press, 2017
ISBN: 978-9774168215, Pbk, 248pp, £9.99 / $10.02
Surgical analysis of moral descent
There are some books, all too few, but some, that grab you from the very first line, hold your attention tight, right through every single word to the end and then, long after you've finished reading them, keep delivering with their exquisite phrasings, stunning imagery and sheer, original, deftness of storytelling. Yasser Abdel Hafez's wonderful satire on modern-day Cairo, The Book of Safety is one such.
Not by any means a quick, easy 'lit-fix' read, Abdel Hafez's latest novel is rich, profound and has a depth of imagination and whip-smart narrative stratigraphy that will come as no surprise to readers of an earlier work, his debut novel On the Occasion of Life that was excerpted in Banipal 25 (Spring 2006) in a special feature on "New Writing in Egypt". In the opening chapters the central protagonist, Khaled Mamoun, responds to a cryptically worded job advertisement, torn from a newspaper, that invites applicants to . . ."
"In your own hand, write the story of your life as you see it in 300 words. You may use any literary style or approach to convey your message . . ."
Successful in his application, he is employed to transcribe testimonies in the Palace of Confessions, a state run, shadowy organisation, where he meets Mustafa Ismail, a gifted thief-cum-University professor whose talent for breaking into the homes of the rich, famous, connected and powerful allows him ample opportunity to blackmail them.
From this modest opening we are treated to a surgical analysis of moral descent as Khaled is drawn into Mustafa's obsession for perfection in the business of theft and his book "The Book of Safety" is described as 'the ultimate guide to successful thievery'.
Thoroughly Orwellian in his treatment of dystopian, dysfunctional and downright dangerous politics, Abdel Hafez underpins the darker, more disturbing themes with a superbly clear-headed philosophical understanding and delivers the narrative with all the grip and tension of a bestselling crime novelist.
For those familiar with Cairo, many of the locations, tree-lined Shubra and Nasr City, not least among them, need no introduction. While sense of place is of course a vital ingredient in any well-told story, in The Book of Safety it offers a wonderful counterpoint of normality to the bleak and often terrifying absurdity. Imagine Catch-22 being set in an Arcadian flower meadow by a river, or all the horror of Stanley Kubrick's film "The Shining" taking place amid the gilt and grandeur of Buckingham Palace.
At this point, and perhaps rather aptly, a confession has to be made. Unless one has a comprehensive knowledge and understanding of Cairene and Egyptian politics it is possible that subtle, but important, nuances may be missed by the reader. This reviewer, whose grasp of such is through the prism of Western media, fears that this may be the case and thus although recognising the brilliance of the storytelling and the slickly imaginative twists and turns that Abdel Hafez creates for his characters, realises that he may indeed be missing the full importance of many of the delicately crafted observations that require such knowledge.
Notwithstanding this, however, The Book of Safety delivers punches aplenty in Robin Moger's top-notch translation, enthralling the reader with beautiful, cutting prose. It is entirely possible that Yasser Abdel Hafez's novel is an enduring work that in future will be viewed and lauded as a defining text of this extraordinary time in Egypt's proud history. This reviewer would not be surprised at all if this were the case and rather hope it is.
• The Book of Safety is one of the four novels shortlisted for the 2017 Saif Ghobash Banipal Prize for Arabic Literary Translation. For all details of the Shortlist, click here. The winner will be announced the second week of January 2018.
The Book of Safety is being discussed at the first Banipal Book Club meeting in 2018, on Thursday 25 January. Click here for the Facebook link for the event.
Published in Banipal 60. Click here for the Banipal 60 contents page