Shepherd of Solitude
by Amjad Nasser
ISBN:
978-0-9549666-8-3
On Saturday 5 November 2011 Amjad appeared at the Aldeburgh Poetry Festival, reading poems translated in Shepherd of Solitude with Banipal's publisher Margaret Obank reading the English.
On Tuesday 8 November 2011 Amjad was at London's Southbank Centre event entitled State of Emergency, discussing and reading from his poetry.
On Saturday 11 July 2009, Shepherd of Solitude was launched at the Ledbury Poetry Festival, with Amjad Nasser in conversation with Sinan Antoon and Margaret Obank, with readings of poems in Arabic and English.
About Shepherd of Solitude
• First poetry collection by London-based Jordanian poet in English translation by foremost Arabic poetry translator.
• "With his unusually wide and expressive range Amjad Nasser unites the varied facets of his experience in a discourse at once perceptive, critical, tender, and ironically comic."
Alfred Corn
• At times a powerfully existential chronicle of exile, Shepherd of Solitude conjures a new understanding of Arab life, from war-torn Beirut, to castles in Andalusia, to Bedouin Jordan, to a London suburb
• Amjad Nasser blends his Bedouin Arab heritage with European literary modernism producing an enthralling range of vivid, thoughtful and intimate poems
For a YouTube reading of one of the translated poems, click here

Shepherd of Solitude is Amjad Nasser's first English collection, translated and introduced by the foremost translator of contemporary Arabic poetry into English Khaled Mattawa, with the poems selected by poet and translator from the poet's Arabic volumes over the years 1979 to 2004.
Amjad Nasser was born in Jordan in 1955. He is a major contributor to today's Arab poetry scene and has published eight volumes of poetry, two travel memoirs, Flight of Wings (1998) and Under More than One Sky (2002), and a novel. He works as managing editor and cultural editor of Al-Quds Al-Arabi daily newspaper. A selection of his poetry was published in French translation, Ascension de l'amant, with a Foreword by Adonis, (1998), also one in Italian (2001) and one in Spanish (2002).
Khaled Mattawa is the author of four books of his own poetry and has translated eight volumes of contemporary Arabic poetry and co-edited two anthologies of Arab American literature.

Beginning the Banipal Books Arab Poetry in Translation Series • A Paperback Original • Publication 1 July 2009 • Poetry • £7.95 • ISBN 978-0-9549666-8-3 • 186pp • 125 x 198mm • On sale online or at all good bookshops
For an interview with the author or a review copy, contact Margaret Obank on +44 (0)20 7832 1350 or at editor@banipal.co.uk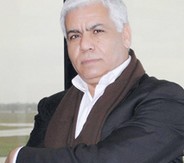 Latest News
24/04/2018
Ibrahim Nasrallah wins 2018 International Prize for Arabic Fiction
[read more]
07/03/2018
Sheikh Zayed Book Award announces the 2018 Shortlists
[read more]
26/02/2018
Shortlist Announced for IPAF 2018

[read more]
22/02/2018
On 3 March: Three award-winning translators to discuss "Translating Arabic Fiction Today"
[read more]
17/01/2018
Longlist for 2018 IPAF announced
[read more]
10/01/2018
Robin Moger is winner of 2017 Saif Ghobash Banipal Translation Prize
[read more]
[read all news stories]