Past Events
July 1st, 2012
2-3pm
Clore Ballroom, Southbank Centre

Banipal Celebration Reading


Free event, just come and enjoy.
Banipal is proud to be
participating at Poetry Parnassus this summer, the largest poetry festival ever staged in the UK and held as part of the 2012 Cultural Olympiad. Banipal will celebrate the hundreds of Arab poets whose work it has published in English with readings from Hassan El Ouazzani (Morocco), Khaled Mattawa (Libya), Saadia Mufarreh (Kuwait), Amjad Nasser (Jordan), Iman Mersal (Egypt) and Rasha Omran (Syria) – and the launch of Banipal 44 – 12 Women Writers.
Introduced by Banipal's publisher Margaret Obank with MC from Farrago Poetry John Paul O'Neill.
For more info on Poetry Parnassus, click here.
Amjad Nasser was born in Jordan, 1955. From 1976 he worked in newspapers in Beirut and Cyprus. Since 1987 he has lived in London where he is managing editor and cultural editor of Al-Quds Al-Arabi daily newspaper. He has published nine volumes of poetry, four travel memoirs and a novel. He is the recipient of a number of literary prizes for his works and has two volumes of selected poems in French and Italian respectively. In July 2009, Banipal Books published Shepherd of Solitude, Selected Poems, a volume of his poems selected by himself and his translator, Khaled Mattawa. His first novel, Haythu La Tasqut al-Matar (Where the Rain doesn't Fall), will shortly be published in English translation by Bloomsbury Qatar Foundation Publishing (2013). Click here to read more about it. Click here for a full biography.
Khaled Mattawa was born in Benghazi, Libya, 1964, and emigrated to the USA in1979. He has authored four poetry collections, Tocqueville (New Issues Press, 2010), Amorisco (Ausable Press, 2008), Zodiac of Echoes (2003), and Ismailia Eclipse (Sheep Meadow Press,1996) and translated eight volumes of contemporary Arabic poetry. He won the 2011 Saif Ghobash-Banipal Prize for Arabic Literary Translation for Adonis: Selected Poems (Yale University Press, 2010). Mattawa teaches creative writing at the University of Michigan, Ann Arbor, and served as President of RAWI, (Radius of Arab American Authors) 2005-2010. He is also a founding contributing editor of Banipal. Click here for a full biography.
Hassan El Ouazzani was born in Morocco in 1970. Former secretary-general of the Moroccan House of Poetry and professor at the School of Information Science in Rabat, he is now director of the Casablanca Book Fair. His poems have been published in numerous poetry magazines such as Prometeo (Colombia), Kalathos (Venezuela), Ila (Germany), and Les soirs rouges (Canada). His publications include: Hudnatun ma (A Truce), (Union of Moroccan Writers, Rabat, 1997), Répertoire des écrivains marocains, (Union of Moroccan Writers, Rabat, 1993), La production littéraire marocaine 1929-1999: Bio-bibliographie et Ètude socio-bibliométrique, (Union of Moroccan Writers, Rabat, 2002) and Le secteur du livre au Maroc, (Rabat, Ministry of Culture, 2009).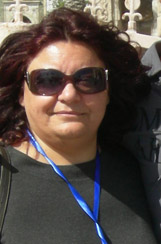 Rasha Omran was born in Tartus, Syria, in 1964 and has a degree in Arabic Literature from Damascus University. She is the director of al-Sindiyan festival of culture. Among her poetic works are: Pain in the Shape of Life, 1997, As Though My Exile Were My Body, 1999, Your Shadow Stretched Out In My Extreme Yearning, 2003 and An Empty Red Coat, 2009. Rasha has participated at several poetry festivals and events in the UK, including the Ledbury Poetry Festival and the London Review Bookshop, 2008. Click here for a full biography.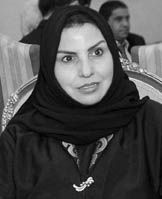 Saadia Mufarreh is a poet, critic and journalist. She works as arts editor of Al-Qabas daily newspaper in Kuwait where she also writes a weekly column. In addition, she regularly publishes in other newspapers, including al-Riyadh and al-Arabi in Kuwait. She graduated from Kuwait University in Arabic Language and Education in 1987 and has published over fifteen works of poetry and criticism. Her works have been translated into numerous languages, including French, German, Polish, Spanish and Italian. For Saadia's Arabic website, click here. Click here for a full biography.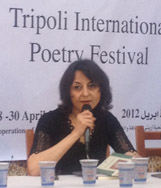 Iman Mersal was born in 1966 in Mansourah, Egypt. Her poetry collections include: Ittisafat (Characterizations), 1990, Mamarr Mu'tim Yasluh li Ta'allum al-Raqs (A Dark Passageway is Suitable for Learning to Dance), 1995, al-Mashy Atwal Waqt Mumkin (Walking As Long As Possible), 1997 and Jughrafia Badeela (Alternative Geography), 2006. She currently teaches Arabic Language and Literature at the University of Alberta, Canada. A selection of her poetry, These Are Not Oranges, My Love, translated into English by Khaled Mattawa, came out with Sheep Meadow Press, USA, in 2008. Click here for a full biography.