Ibrahim Aslan (1936-2012)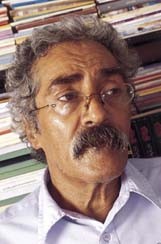 Ibrahim Aslan was born in Cairo in 1936. He became one of Egypt's leading novelists and short story writers. His first short story was published in 1963 and his first collection, Buhayrat al-Masah [The Evening Lake], in 1972. His second collection, Youssef wal-Rida' [Joseph and the Clothes], was published in 1987. He went on to author three novels and two collections of essays as well as editing Al-Hayat's Horizons cultural section, and writing a weekly column for Al-Ahram.
His first novel (Malik al-Hazin, 1983), translated as The Heron (2005) by Elliott Colla, was voted as one of the 100 best Arabic books of the 20th century, and adapted into the film Kit Kat. Ibrahim Aslan will be much missed.

Two of his novels, The Heron (Malik al-Hazin) and Nile Sparrows (1999) were reviewed in Banipal 27, which also detailed some of his life experiences that undoubtedly made him "the distinguished writer he is".

Click here to read the review.

His third novel, Two-Bedroom Apartment, was just published in 2009.
Banipal 2, June 1998, published Training, section 2 of his novella Wardiyyat Layl (Night Shift), published in 1991. The excerpt was translated by Maya Abu Deeb and is available to read online by clicking here.
---
Contributor's Issues
Banipal 49 - A Cornucopia of Short Stories (2014)
Banipal 27 - Autumn/Winter 2006