Charis Olszok (née Bredin)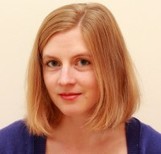 Charis Olszok (née Bredin) is a Lecturer in Modern Arabic Literature and Culture, and a Bye-Fellow and Director of Studies for King's College, University of Cambridge. She has a first class honours BA in French and Arabic from the University of Oxford, and an MA in Arabic Literature (Distinction) from SOAS. She finished her PhD, also from SOAS, in 2016, which looked at the depiction of animals in modern Libyan fiction from 1965-2011.
While studying for her MA she worked with Banipal and translated a number of fiction texts for Banipal issues.
Her fiction translations include African Titanics by Abu Bakr Khaal, Ebola '76 by Amir Tag Elsir (co-translation with Emily Danby) and forthcoming by Banipal Books, Goat Mountain by Habib Selmi, which was the author's debut novel published in 1987. The first chapters of Goat Mountain are excerpted in Banipal 59 – The Longlist.
---
Contributor's Issues
Banipal 48 - Narrating Marrakech (2013)
Banipal 51 - Celebrating Saadi Youssef (2014)
Banipal 59 - The Longlist (Summer 2017)
Banipal 52 - New Fiction (2015)