Mahmoud al-Bayaty (d.2014)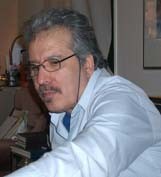 Mahmoud al-Bayaty, the Iraqi writer and journalist, passed away on Friday 31 October 2014, at his home in London. Born in Baghdad, he left his country for political reasons in 1974. He lived in Prague for about 20 years and in Sweden for considerably longer.

He has published ten books including the short story collections: Breaking the Sound Barrier (1985), The Geography of the Soul (1994), Hallucinations behind the Scenes (1999), Waiting for the Stranger (2008) and Khalilo (2010). His novel Dancing on Water (2006) was banned by the Islamic Research Academy in Cairo under the pretext that it "contains poems which constitute indecent assault on morality".

Banipal published one of his short stories, Junction, in Banipal 49 – A Cornucopia of Short Stories, translated by his nephew, the writer and playwright Hassan Abdulrazzak. In remembrance of Mahmoud al-Bayaty Banipal is making this story available on our website to all readers. Click here to read it now.
---
Contributor's Issues
Banipal 49 - A Cornucopia of Short Stories (2014)