Past Events
Mon 06 February 2012
Evening
King's Place
Presentation of the 2011 Saif Ghobash - Banipal Prize for Arabic Literary Translation.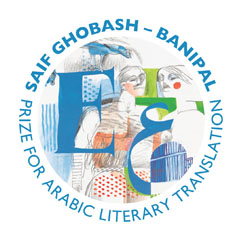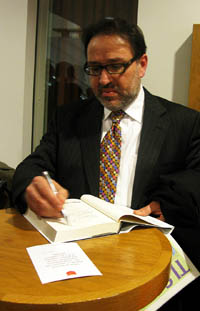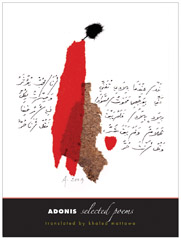 Khaled Mattawa at the award ceremony, Adonis: Selected Poems, translated by Khaled Mattawa.

Authors, translators, publishers and literature enthusiasts gathered at King's Place for a celebration of literature in translation. The evening commenced with the presentation of the Society of Author's annual prizes for literary translation. Presenting the awards was Sir Peter Stothard, editor of the Times Literary Supplement who was joined on stage by prize administrator Paula Johnson of the Society of Authors.
The first award to be presented was the Saif Ghobash – Banipal Prize for Arabic Literary Translation. Before introducing the winner, Sir Peter Stothard commended Maia Tabet on behalf of the judges for her translation of Elias Khoury's White Masks (Archipalego). He quoted the judges' own description of the work as 'one of the first novels that dared to address the civil war in Lebanon', rendered beautifully into English by Tabet's 'masterful translation'.
Translator Barbara Romaine then took to the stage to receive a certificate as runner-up of the Saif Ghobash Banipal Prize for her translation of Radwa Ashour's Spectres (Arabia Books). The judges described Romaine's work as an 'impressive translation [which] renders the metaphorical power of Ashour's story with grace and subtlety'.
Peter then introduced the winner of the prize, Khaled Mattawa, to the stage. Khaled received the award for his translation Adonis: Selected Poems, described by the judges as 'a monumental piece . . . long-overdue'. Khaled treated the audience to a reading from the anthology, selecting Adonis's 1975 poem 'Singular in a Plural Form'.
For more information on the winners of the 2011 Saif Ghobash - Banipal Prize, please click here.
Following presentation of the Saif Ghobash Banipal Prize, awards were given to translators from German, French, Dutch and Spanish, all of whom delighted the audience with readings from their respective works. For a full list of the prize-winners and their works, click here.
The second part of the evening was dedicated to the annual Sebald Lecture on the art of literary translation which was given this year by poet and translator Sean O'Brien on the theme 'Making the Crossing: the Poet as Translator'. Sean spoke of the difficulties faced by any translator of poetry in creating a truly poetic work in the target language whilst remaining faithful to the original. His speech was furnished with a wealth of examples from his own career as a translator, rendering into poetic English verse from Dante, Baudelaire and Aristophanes, amongst many others.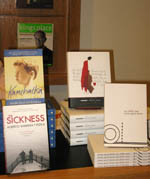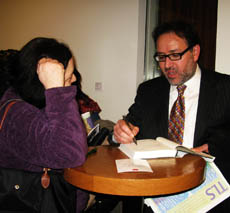 (L-R) Khaled Mattawa's translation amongst the prize-winning books on sale. Khaled signs a copy of his translation.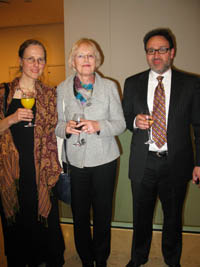 (L-R) Editor of the TLS Sir Peter Stothard with Barbara Romaine, runner-up for the Banipal Prize. Founder of Banipal Margaret Obank with Barbara Romaine and Khaled Mattawa.