Past Events
4-6 November 2011
All day
Aldeburgh Poetry Festival

4 November

Margaret Obank, co-founder of Banipal magazine, gave a whistle-stop guide to Arabic poetry, from the founding of Shi'r Magazine to the present day. Discussing the role that Banipal has played in stimulating cross-cultural dialogue and showcasing contemporary poets in English translation from all over the Arab World, Margaret presented the audience with a more detailed study of significant poems that Banipal has been particularly proud to publish.

5 November

Reading: Fergus Allen, Amjad Nasser and Kay Ryan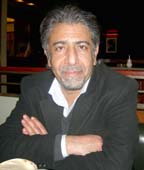 The hall was filled to capacity for this evening of poetry readings in which the Jordanian poet Amjad Nasser was joined by British poet Fergus Allen and former US poet Laureate Kay Ryan.
Amjad has published seven poetry collections since he began writing, the latest of which, Shepherd of Solitude, was translated by Khaled Mattawa and published by Banipal Books in 2007. Amjad treated the audience to a reading from the Arabic originals of Shepherd of Solitude, with Banipal Books publisher Margaret Obank providing a reading from Mattawa's translation.
Joining Amjad was Fergus Allen, who has published five collections of poetry over the past twenty years, since he started writing upon retirement at the age of seventy.
This event was Kay Ryan's first UK reading and launched her first UK publication Odd Blocks: New and Selected Poems.

To buy a copy of Shepherd of Solitude click here



Talk : Best Words – In Translation


Popescu Prize judge Jane Draycott announced the winner of this year's prize, which was awarded to Judith Wilkinson for her translation of Raptors by Toon Tellegen. The winning work was celebrated with a close reading and Jane also talked about the significance of the award and how she and fellow judge Sasha Dugdale came to their decision.
For more information on the winning novel, click here.