Past Events
3 June 2011
8pm - 11pm
St Ethelburga's Centre for Reconciliation and Peace
78 Bishopsgate
London EC2N 4AG

THE PREMIERE OF
The Ziggurat Builders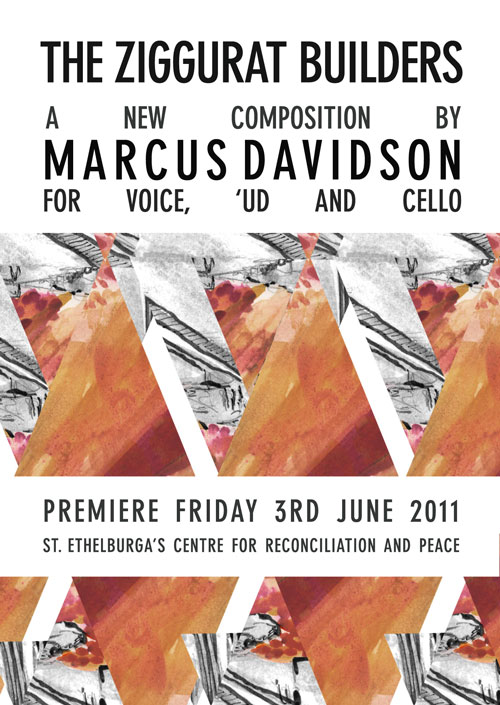 The Ziggurat Builders is a new composition for Voice, Oud and Cello by Marcus Davidson exploring the music of the voice and the Oud from medieval to contemporary sounds. Supported by the PRS for Music Foundation.
The title and libretto are taken from an existing poem by the late Iraqi Assyrian poet Sargon Boulus (1944-2007) and translated from Arabic into English by the author. The work draws on the unique sounds and individual qualities of 'Voice' and Khyam Allami, exploring the meeting of performing traditions from the east and west, creating a new sound source for the, as yet, unexplored combination of Oud, voice and cello.
Musicians
A cappella trio: Voice with Victoria Couper, Clemmie Franks and Emily Burn
Oud: Khyam Allami
Cello: Tara Franks
Composer : Marcus Davidson
Also at this special concert
Khyam Allami will be performing extracts of his debut album Resonance/Dissonance
Admission: £10.00 Concessions: £5.00 Click here to book a ticket.
For Directions to St Ethelburga's Centre click here
The Ziggurat Builders on Facebook
Click here to buy a copy of Knife Sharpener – Sargon Boulus's poems in English translation (including The Ziggurat Builders) also feature tributes to him and photographs, and was published posthumously by Banipal Books.