Past Events
6-10 October 2010
all day
Buchmesse, Frankfurt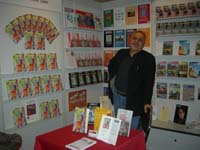 Banipal had a stand in the newly organised Weltempfang in the Frankfurt Book Fair's Hall 5 as part the book fair's invaluable invitation programme for small independent international publishers. One the neigbouring stand was Hans Schiler, head of the independent publishing and distribution company Verlag Hans Schiler, for Arabic and translated books. Banipal's publications, books and the magazine will now be sold online in Germany via Hans Schiler's distribution website

Just nearby was the stand of Walidoff Publications, whose publisher is Tunisian author Walid Soliman, a contributing author in Banipal 39, and a participant in the Panel Discussion on Tunisian Literature. Along from him was the stand of the Yemen BookShop, whose director Nashwan Al-Maghafi was the British Council's 2008 Young Publisher of the year, awarded at the London Book Fair. The Yemen BookShop supported Banipal 36, whose theme was Literature in Yemen Today. Contact YemenBookshop on Facebook

On the last day of the Fair, Sunday 10 October (10.10.1), Banipal's editor Samuel Shimon hosted a discussion on Tunisian literature, the theme of Banipal 39 that was published on 1st October.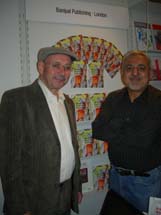 Banipal's publisher wrote about contemporary Arab literature in translation and developments re prizes for the Book Fair's daily Fair Dealer. Click here to read the article. Fair Dealer was produced by BookBrunch and Publishers' Weekly.