Past Events
Thursday 9th July 2009
8:00pm to 10:00pm
Frome
In a sudden change of schedule Banipal magazine's editor and publisher Margaret Obank introduced Moroccan poet Siham Bouhlal who was able to come from Paris a day prior to her performance at the Ledbury Poetry Festival to read at Frome and whose latest collection in French, Corps Lumiere, was published by Al Manar in 2008. Alongside her were Palestinian writer Adania Shibli, author of the prize-winning Arabic novel We Are All Equally Far From Love, and Iraqi author Samuel Shimon, who wrote the Arabic best-seller An Iraqi in Paris. Jordanian poet and author Amjad Nasser, whose latest novel translated into English, Shepherd of Solitude, has just been published by Banipal Books, had originally intended to come but was unable to at the last minute.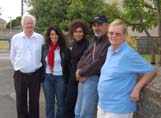 Peter Clark, Siham Bouhlal, Adania Shibli, Samuel Shimon & Theresa Clark
at Frome Festival
Peter Clark OBE, who lives locally and was the main mover behind the event, introduced a film about the new International Prize for Arabic Fiction (of which he is a trustee), showing this year's short-listed authors. Following the event there were questions and discussions, a chance to meet the authors personally and buy translations of their work. There was also Middle Eastern food and refreshments available in the interval, organised and arranged by Theresa Clark and a team of festival volunteers.
Venue:
Holy Trinity Church and Hall
Trinity Street, Frome, Somerset, BA11 3DF 01373
Location: See google map
Tickets:
£8 / £6
Box Office tel: 01373 455420
Box office hours: Mon-Fri 9.30am - 2.30pm * Sat 9.30am - 5.00pm
email: cheeseandgraintickets@hotmail.com
For more info: www.fromefestival.co.uk